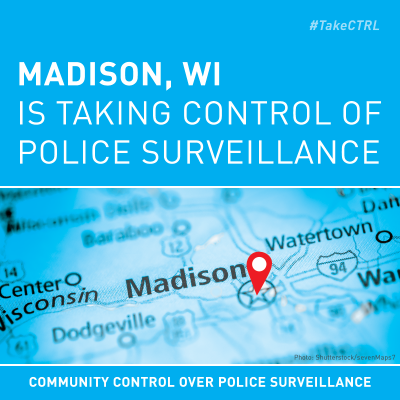 Several community organizations have banded together to ask Madison's Common Council to ensure transparency and accountability when it comes to police use of surveillance technology.  They are asking for the adoption of an ordinance by the Council to create a vetting system for MPD surveillance technology purchases that includes public input and consideration of the impact of technology on the privacy rights of innocent residents.
"The increasing, secret use of surveillance technologies by local police, especially against communities of color and other unjustly targeted groups, is creating oppressive, stigmatizing environments in which every community member is treated like a prospective criminal," said ACLU Executive Director, Chris Ahmuty.  "The overuse of surveillance technologies has turned many non-white, low income neighborhoods into fishbowls where their residents' public behavior is monitored and scrutinized."
The resolution, which is influenced by a set of guiding principles released by a diverse coalition of 17 national organizations, include mandating city council approval and a public hearing process that maximizes community input into surveillance technology decisions.  The principles aim to promote transparency, democratic decision making, and community empowerment with respect to if and how surveillance technologies are funded, acquired, and used.
This locally-led, multi-city effort was developed in partnership with 17 highly-diverse national partner organizations: The American Civil Liberties Union, Bill of Rights Defense Committee/Defending Dissent Foundation,
Campaign Zero, Center for Democracy & Technology, Center for Popular Democracy, Council on American–Islamic Relations (CAIR), Crypto Harlem, Demand Progress, Electronic Frontier Foundation, Fight for the Future, The Leadership Conference on Civil and Human Rights, Million Hoodies Movement for Justice, National Association for the Advancement of Colored People (NAACP), National Network of Arab American Communities, Restore the Fourth, South Asian Americans Leading Together (SAALT), and Tenth Amendment Center.
The Wisconsin organizations who have signed on are: 9 to 5, ACLU of Wisconsin, Black Health Coalition of Wisconsin, The Coalition for Justice, the Community Response Team, Educators Network for Social Justice, Mothers for Justice United, Peace Action, Uplifting Black Liberation and Community, Wisconsin Jobs Now, Wisconsin Voices, and WISDOM.
Additional resources and information can be found here: www.communityCTRL.com