FOR IMMEDIATE RELEASE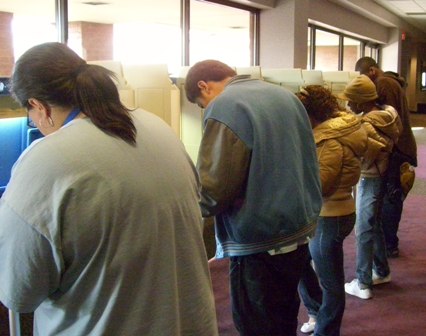 October 9, 2014
MILWAUKEE— The U.S. Supreme Court today stayed an appeals court order that had allowed Wisconsin's voter ID law to take effect. The ACLU is challenging the law, which had been declared unconstitutional by a federal judge in April. The Supreme Court did not consider the merits of the case, but rather stayed a Seventh Circuit appeals court order from mid-September that allowed Wisconsin to implement the law as the case proceeds through the courts.
The following is a statement from Larry Dupuis, Legal Director of the ACLU of Wisconsin:
"The ACLU of Wisconsin is profoundly relieved that the Supreme Court has halted the state's ill-advised rush to implement the voter ID requirement. Thanks to this ruling, our clients and the many other voters without ID will be able to vote on November 4 without unnecessary obstacles."
The following is a statement from Dale Ho, director of the ACLU's Voting Rights Project:
"Today's order puts the brakes on the last-minute disruption and voter chaos created by this law going into effect so close to the election. It will help safeguard the vote for thousands of Wisconsinites as this case makes its way through the courts."  
The ACLU, the ACLU of Wisconsin, the National Law Center on Homelessness & Poverty, and Dechert LLP are co-counsel in this case, Frank v. Walker. The motion was jointly filed with the League of United Latin American Citizens, represented by Arnold & Porter and the Advancement Project.
A copy of the order is at: https://www.aclu.org/voting-rights/frank-v-walker-supreme-court-order 
More information about this case is at: https://www.aclu.org/voting-rights/frank-v-walker-fighting-voter-suppression-wisconsin