Every fall, the ACLU of Wisconsin Foundation joins community partners in sponsoring a day-long event to teach high school students to exercise, protect, and celebrate their civil rights and liberties.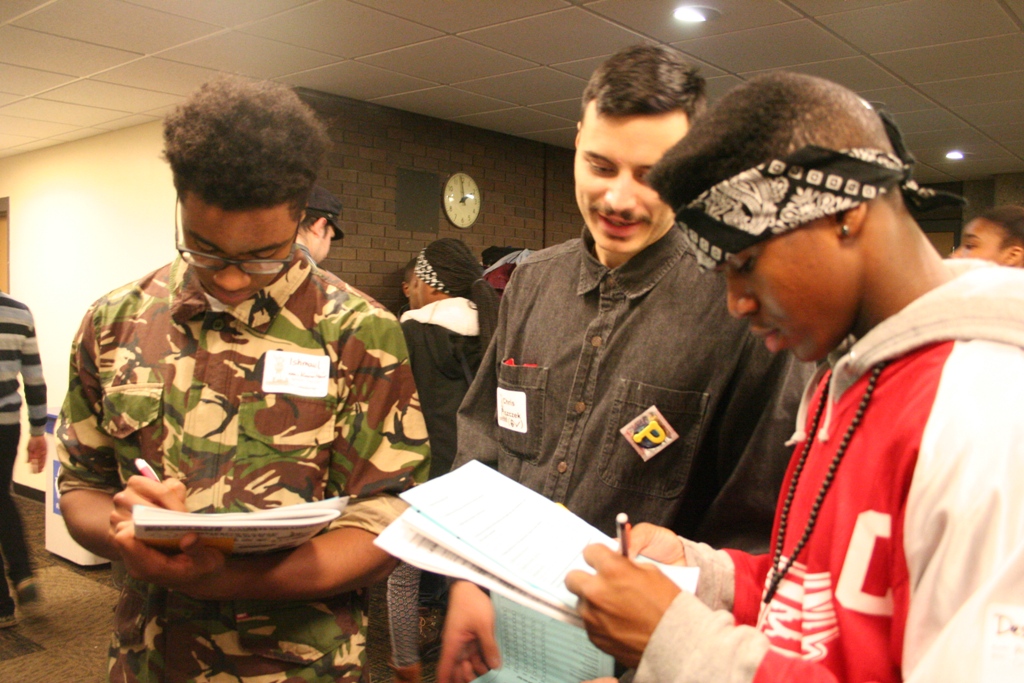 The event is free to participating high schools.
When: The 17th annual Youth Social Justice Forum will be held on Monday, November 14, 2016. Events begin at 9am and go until 2pm.
Where: UW-Milwaukee Student Union, Wisconsin Room, 2200 E Kenwood Blvd, Milwaukee, WI 53211
Great visuals of students working on art projects, voting, debate.
What: The Youth Social Justice Forum uses hands-on workshops, realistic role-play activities and current events to teach students about their rights and civic responsibility.  Participants learn about new media, public art, civics and government, discuss bullying, racial profiling, LGBTQ+ rights, restorative justice and other topics relevant to youth rights and responsibilities. Students even have the chance to create their own video documentaries, courtesy of DocUWM.
Students also participate in a mock election using real voting machines supplied by the City of Milwaukee Election Commission. This year's election topic is "Should the Common Council regulate surveillance equipment the police are using to monitor people in Milwaukee?"
Some of the speakers and community partners include: MPS - Partnership for the Arts and Humanities, University of Wisconsin – Milwaukee, UWM - Cultures and Communities Program, UWM – Global Inclusion and Engagement, the Cream City Foundation, the Greater Milwaukee Foundation, Milwaukee Office of Violence Prevention, Beyond the Bell, ACLU Student Alliance at Alliance High School, ACLU Student Alliance at NOVA High School, ACLU Student Alliance  at Pulaski High School, ACLU Student Alliance at UW-Milwaukee, Urban Underground, TRUE Skool, City of Milwaukee Election Commission, NAACP Milwaukee Branch, Milwaukee Public Theatre, UWM - Peck School of the Arts, Legal Action of Wisconsin, SURJ-Milwaukee, Harambee Great Neighborhood Initiative, Foundations for Freedom, DJ Bizzon, Youth Rising Up, Parents for Public Schools of Milwaukee, Planned Parenthood, League of Women Voters, and Wisconsin Voices.
More information can be found at: http://aclu-wi.org/youth-and-community-programs/youth-social-justice-for...
The ACLU of Wisconsin is a non-profit, non-partisan, private organization whose 7,000 members support its efforts to defend the civil rights and liberties of all Wisconsin residents. For more on the ACLU of Wisconsin, visit our website, like us on Facebook or follow us on Twitter at @ACLUofWisconsin.