Youth leadership development through community arts and culture education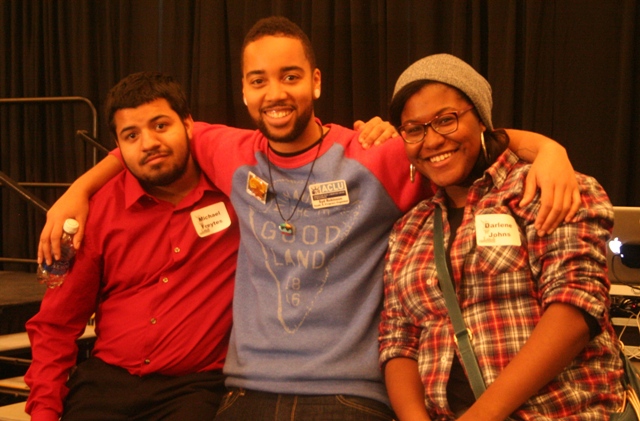 Through a partnership between the ACLU of Wisconsin, Milwaukee Public Theatre, Milwaukee Public Schools, and other allies, we work with students to help them examine, understand, articulate, and impact the major community issues of violence and civic apathy by learning about civil liberties and civil rights. We engage students in MPS schools in neighborhoods where poverty, joblessness, and violence are high. These areas also have disproportionately high rates of contact between police and members of racial and ethnic minorities, and where students have been specifically identified as being at greater risk of academic failure.
The PASA Program offers at least 30 hours of workshops for students at each school, teaching young people effective means of research, creative writing, journalism, civics, public speaking, video and audio editing, and visual art. Students in the PASA Program often become leaders at the ACLU's annual Youth Social Justice Forum.
We meet and work with many other schools and community partners besides our PASA schools around the state. Some of those are: North Division High School, James Madison Academic Campus, South Division High School, Bradley Tech High School, Oconomowoc High School, Milwaukee High School of the Arts, Ho Chunk Nation Department of Education, Wisconsin Indian Education Association, Oneida Nation, Red Cliff Band, Bayfield High School, Audobon High School, Pierce Middle School, Arbor Vitae Middle School, Nicolet, University School of Milwaukee, Urban Underground, True Skool, Pathfinders, Children's Outing Association, The Boys & Girls Clubs of Greater Milwaukee, Journey House, UW-Milwaukee, UW-Madison, UW-Marathon County, Alverno College, Edgewood College and many others.
The ACLU of Wisconsin, Milwaukee Public Theatre and many other community groups work together each year to incorporate their violence prevention programming into the PASA workshops and arts residencies. The often culminate in large community celebrations such as Summer of Peace, Juneteenth, Pridefest, and Latino Carnival.  Students learn how civic engagement can empower positive social change. Their self-confidence, teamwork abilities, and leadership skills are challenged and strengthened through public displays of art, vital civic education, and engagement with the broader community through public events. Visit our Facebook page to see more excellent photos from the Summer of Peace Parade and Rally.