Public Workshops and Training Sessions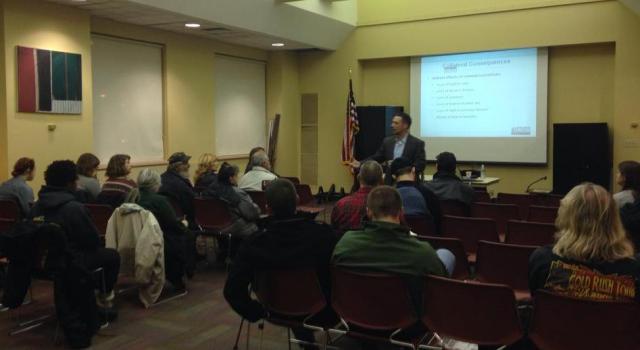 The ACLU of Wisconsin envisions a society in which a strong, growing, and diverse network of people and public and private institutions understands, values, and works to protect civil liberties and rights. The ACLU of Wisconsin's most recent strategic plan includes a major goal of engaging people across the state on civil liberties issues.
A few of the specific issue areas that we are able to present on are:
Law Enforcement
Know Your Rights during Law Enforcement Encounters
Know Your Rights during Law Enforcement Encounters (Spanish-language)
Effective Police Accountability
Racial Justice Through Marijuana Decriminalization
Felon re-enfranchisement
The rights of prisoners
Education
KYR – public school rights – 5 freedoms (speech, religion, assembly, press, petition), privacy
Adequate Education - Vouchers
Poetry, politics and Power
Puppets, People and partnerships
Racist Mascots
Student Privacy: Searches, Consent and Your Rights
Shared Power, Shared Voice – How to use Circle Process to facilitate healthy environments
Effective youth partnerships
Bigger Than Bullying: Adequate Education and Bullying
Using theatre to educate around civil liberties and civil rights issues.
Theatre Games about power, access and voice
Arts and Civil Liberties (or Arts & Activism)
Youth Organizing workshop
First Amendment Rights
First Amendment Rights/T-shirt printing workshop
Demonstrator's Rights workshop
Political Cartooning
Getting your message out there – creating audio or video PSAs
Social Media and Organizing
Legal Observer Training
Banned Books and Censorship
Free Speech 101
Printmaking, Art & Activism
LGBT
Marriage Equality
Out of the closets and into the Classrooms: LGBT rights in Public schools
Internet Privacy and Security
Effective Use/Integration of Social Media
Digital Privacy – Know Your Rights online
Social Media, the Internet, & Privacy – Creepers & Cops
Data mining and Surveillance Industries
Social Media and Youth Outreach
Racial Justice
Diversity and Inclusion in Messaging
Practice what you preach:  Building a diverse and inclusive environment
Racism 101: Types of racism: institutional, structural, internal (unaware/unintentional/self hatred), individual (covert/overt).
What is bias? ISMS, civil liberties and civil rights
Civil Liberties and Civil Rights
Civil Liberties/ Civil Rights Today: Getting Involved
Social Justice 101
Civic Action: MKE Civics 101
Introduction Outreach and Organizing
Voting Rights
Environmental Justice/Transit Equity
Immigration:  Rights & Myths
Effective Persuasive Speaking & Presentations
Many of the ACLU's workshops are organized by other community groups and educational institutions, who invite ACLU staff to share their knowledge about specific topics. If you would like to request a speaker from the ACLU of Wisconsin, email us the date of the event, issue being discussed, and location. Please note that we will not be able to accommodate all requests, but the earlier you submit your request, the greater the likelihood a speaker will be scheduled.
You can also download one of our ACLU of Wisconsin Know Your Rights resources including bust cards for Milwaukee and Madison. Please visit our Resources page for more.