"Eggs Benedict" and Artistic Freedom
In 1999, Chris Ofili's "The Holy Virgin Mary" enraged New York Mayor Rudolph Guiliani, leading to a First Amendment showdown when the mayor threatened to revoke the City's $7 million dollars in funding to Brooklyn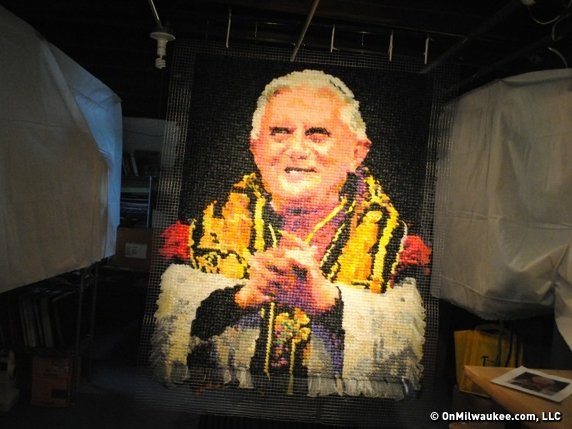 Museum after it showed the mixed media piece that included elephant dung. Now Niki Johnson and her work, "Eggs Benedict," have ignited a similar controversy in Milwaukee, with some Catholic leaders condemning the piece – a portrait of Pope Benedict XVI made with colored condoms – as insulting and demanding its removal.  Some donors have withdrawn their financial support from the Milwaukee Art Museum, which is showing the work.
Critics claim the display of Eggs Benedict shows MAM's hostility to Catholics or Catholicism. But that claim is demonstrably false: the museum displays works by Roman Catholic painters on traditional Catholic themes, including a Madonna and Child by Italian painter Nardo di Cione from the 14th century and another by Francisco Solimena from the early 18th century, as well as a 17th Century painting of St. Francis of Assisi and a mid-20th Century painting of the Crucifixion by Haitian artist Hector Hyppolite.
Despite the criticism, the Art Museum has courageously stuck to principles of artistic freedom.  A free society must leave individuals free to decide for themselves what art they will view or create.  The First Amendment prevents the government from censoring art or punishing museums for showing controversial art, as Mayor Giuliani learned. Of course the First Amendment protects the right of private citizens – including Milwaukee Archbishop Jerome Listecki – who don't like a work of art to criticize it or a museum for showing it, or even to organize boycotts.  The best response to such attempts at suppression is for those who support freedom of artistic expression to speak out in support of artists and museums and increase their donations. But, in extreme cases, reactionary pressure groups can threaten the free marketplace of ideas that the First Amendment protects.  For example, private pressure groups during the McCarthy era created and enforced the infamous Hollywood blacklists.
Eggs Benedict pushes some sensitive buttons in America: religion, sex, birth control. (The ACLU finds itself pushing some of these same buttons with its advocacy and litigation!) The artist conceived of it as a critique of a powerful leader's influence – for good or ill – on public health efforts to halt the global AIDS epidemic.  Much great art pushes buttons, questioning conventional wisdom and unsettling the status quo.  Whether or not Eggs Benedict is great art, civil libertarians in general and defenders of artistic freedom in particular can make their voices heard by defending the artist's right to create it, applauding the Museum's courage in showing it, and exercising their right to go see it.