19th annual Youth Social Justice Forum!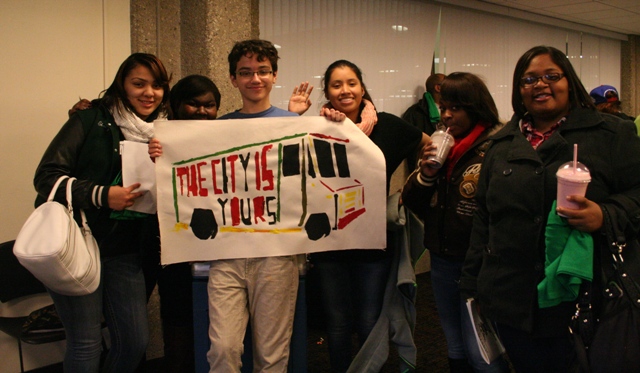 The 19th annual Youth Social Justice Forum will be held in Milwaukee on Monday, November 12, 2018.
Every fall, the ACLU of Wisconsin Foundation joins community partners in sponsoring this day-long event to teach high school students to exercise, protect, and celebrate their civil rights and liberties. The event is free to participating high schools.
The Youth Social Justice Forum will use hands-on workshops, realistic role-play activities and issues from the news to teach students about their rights.
Participants will learn about new media, public art, civics, and government, discuss bullying, racial profiling, LGBTQ+ rights, restorative justice and other topics relevant to youth rights and responsibilities.
Students can also participate in a mock election using real voting machines supplied by the City of Milwaukee Election Commission. Students will even have the chance to create their own audio public service announcements, courtesy of WMSE.
To apply: If your school is interested in participating in the 2018 Forum, please email Emilio De Torre, ACLU of Wisconsin Youth and Program Director, at
edetorre@aclu-wi.org
or call (414) 305-8569. Reservations are required. 
If you are interested in presenting a workshop at this year's Youth Social Justice Forum, please send a title and one paragraph description of the workshop with your phone number to Marissa Ocampo at
mocampo@aclu-wi.org
.
In the paragraph, please explain how your workshop is connected to civil liberties or civil rights, and how you will specifically engage teenagers and make it engaging and interesting for them (for example, by using visual arts, storytelling, etc.), the ideal group size, and if you have any agencies or other partners who will be working with you.
2017 workshops included:
Know Your Rights in Law Enforcement Encounters
What Does Black Empowerment Look Like?
Experiencing the Juvenile Justice System From Arrest to Incarceration 
Youth Fighting 4 Justice: The Mixtape
Free Speech and T-shirt Printing
Printmaking, Art & Activism
Student Privacy: Searches, Consent, and Your Rights
Creating Social Justice Videos
Shared Power, Shared Voice
Sound Off! 
Out of the Closets and Into the Classroom
The Three "A's" of Advocacy: Accompaniment // Amplification // Acclimatization
It's Bigger Than Bullying 
Big Mad/Little Mad
Human Trafficking
We extend special thanks to our 2016 community partners, including:
ACLU Student Alliance at Alliance High School
ACLU Student Alliance at NOVA High School
ACLU Student Alliance and Amnesty International at Rufus King HS
University of Wisconsin - Milwaukee
ACLU Student Alliance at UW-Milwaukee
Urban Underground
TRUE Skool
City of Milwaukee Election Commission
Milwaukee Public Theatre
YWCA Southeastern Wisconsin
MPS - Partnership for the Arts and Humanities
University of Wisconsin - Milwaukee
UWM - Cultures and Communities
UWM - Peck School of the Arts
UWM – LGBT Resource Center
NAACP Milwaukee Branch
DJ Bizzon