Milwaukee Organizations Push for Accountability of Police Use of Surveillance Technology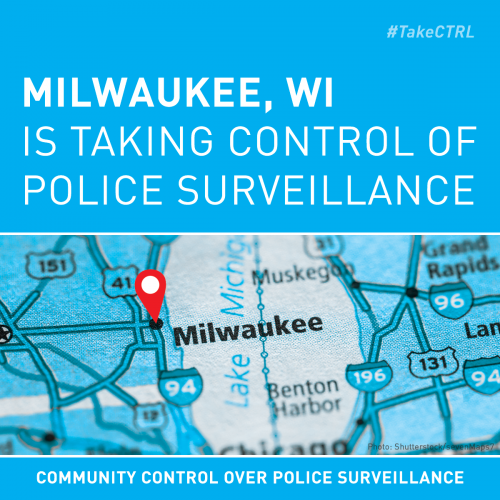 MILWAUKEE- Thirty-two organizations have banded together to ask Milwaukee's Common Council to ensure transparency and accountability when it comes to police use of surveillance technology.  They signed on to a letter opposing the recently proposed "Public Safety Plan" and asking for the adoption of a resolution by the Council to create a vetting system for MPD surveillance technology purchases that includes public input and consideration of the impact of technology on the privacy rights of innocent residents.

"The increasing, secret use of surveillance technologies by local police, especially against communities of color and other unjustly targeted groups, is creating oppressive, stigmatizing environments in which every community member is treated like a prospective criminal," said ACLU Executive Director, Chris Ahmuty.  "The overuse of surveillance technologies has turned many non-white, low income neighborhoods into fishbowls where their residents' public behavior is monitored and scrutinized."
The resolution, which is influenced by a set of guiding principles released by a diverse coalition of 17 national organizations, include mandating city council approval and a public hearing process that maximizes community input into surveillance technology decisions.  The principles aim to promote transparency, democratic decision making, and community empowerment with respect to if and how surveillance technologies are funded, acquired, and used.
The Milwaukee and Wisconsin organizations who have signed on are: 9 to 5, ACLU of Wisconsin, All People's Church, Beyond the Bell, Black Health Coalition of Wisconsin, the Coalition for Justice, the Dominican Center for Women, Educators Network for Social Justice, Felmers O. Chaney Advocacy Board, Justice or Else Local Organizing Committee, Martin Luther King Justice Coalition, Milwaukee Inner-city Congregations Allied for Hope, Milwaukee Teacher's Education Association, MLK Justice Coalition, Mothers for Justice United, NAACP Milwaukee Branch, Parents for Public Schools of Milwaukee, Peace Action, Priceless Insight, True Skool, Schools and Communities United, Showing Up for Racial Justice-Milwaukee Branch, Social Development Commission, Solomon Community Temple United Methodist Church, Uplifting Black Liberation and Community, Urban Underground, Walnut Way, Wisconsin Jobs Now, Wisconsin Voices, WISDOM, and YWCA of Southeastern Wisconsin.
For more than 90 years, the ACLU has been our nation's guardian of liberty, working in courts, legislatures and communities to defend and preserve the individual rights and liberties that the Constitution and laws of the United States guarantee everyone in this country. The ACLU of Wisconsin is a non-profit, non-partisan, private organization whose 7,000 members support its efforts to defend the civil rights and liberties of all Wisconsin residents. For more on the ACLU of Wisconsin, visit our website, like us on Facebook or follow us on Twitter at @ACLUofWisconsin and @ACLUMadison.
Date:
Tuesday, September 20, 2016